Nationwide Transport
Chemcouriers offer a premium service specialising in the safe transportation and handling of packaged chemicals, hazardous materials and dangerous goods nationwide.
Our Core Domestic Transport Services Include:
Day Definite Services
Our infrastructure and processes are specifically designed to maximise productivity and accuracy around the handling and on time delivery of your palletised, skidded and forkliftable freight. Your products are picked up and controlled through our comprehensive branch network allowing you to move your freight through one provider to any postcode in Australia.
Our team follow strict safety practices providing you with the peace of mind that your freight will be delivered in the safest and most compliant way,
find out more here.
Full Truck Load Services
When you have a full truck load of products or equipment to move, there are some significant efficiencies that can improve transit times, reduce freight handling and enhance quality. Our nationwide FTL direct delivery service means that the truck that picks up your freight will directly deliver it to the customer. This means no double handling of your product, reducing the risk of damage.
How we support your business
Segregating Hazardous Goods Classes
Utilising specialised segregation devices, we are able to efficiently and legally transport multiple classes of dangerous goods within the same vehicle. This means your products will not be left behind, meeting your delivery time promise and securing sales revenue from your customers.
Find out more about our
dangerous goods segregation here.
Direct Linehaul into our Regional Branch Network
Direct line haul into our regional branch network means your freight is not cross docked via capital city hubs, minimising the risk of damage and reducing lead times.

If you are regularly sending freight into regional areas, take advantage of our direct transit units by talking to our team about frequency and volume.
Local Operations
Our local branch network means we can understand our customers' businesses better, make fast decisions and recognise opportunities which simply aren't apparent when doing business from a distance.
Safety & Compliance
Our Chemcouriers team receive extensive training and follow strict safety practices providing you with the peace of mind that your freight will be delivered in the safest and most compliant way.
Find out more about our
safety and complaince here.
Reporting Compliance
Our online reporting and freight management tool is backed by the Australian Dangerous Goods code to validate your dangerous goods paperwork, reducing compliance risks and administration time.
Find out more about our
online freight management tool here.
Customer Service
Our decentralised customer service teams are in each branch, making decisions as close to customers as possible. This provides timely, accurate information on shipment status, reducing the time your team may spend on the phone chasing down responses.
Purpose Built Facilities
Raised docks allow loaders to have better line of sight when loading your product. The latest materials handling equipment ensures safe and efficient movent of your products. Open plan offices provide clear communication and operation visibility. It is all about minimising risk and making your life easier when we are moving your valuable goods.
Pallet Control
Our dedicated branch-based pallet controllers discuss and agree on pallet management arrangements prior to despatching consignments, so that a robust process is set up to save time and money.
Timeslot Management
We understand that strong working relationships and delivery performance with wholesale and retail chain distribution centres (DC's) are critical success factors. For this reason we provide daily delivery services to FMCG (e.g. Officeworks, Coles, Woolworths, Bunnings) DC's across the country.

Each of our decentralised branch operations have a dedicated timeslot coordinator on site to build rapport with local DC team members. This ensures strict delivery deadlines are met giving you peace of mind around important retail deliveries and making sure your valuable brand image with major customers is maintained.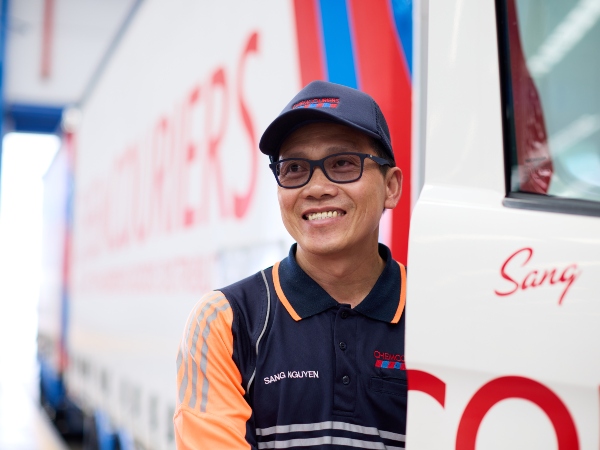 Owner Drivers
Our dedicated Chemcouriers Owner Drivers care for their vehicles, presentation and customers. With their income linked directly to the service they provide (not the hours they work) your teams will value the difference in attitude and customer service they provide. All owner driver vehicles are fitted with GPS tracking to ensure that the fleet can be managed, monitored and planned effectively.
Have a Question?
If you have a question or would like to find out more about our services, ask us today.
CLICK HERE
Want to talk to someone?
If you would like to talk to someone directly, find your local branch contact details below.
CLICK HERE
Interested in joining our team?
If you have what it takes and are up for an adventure, we'd love to hear from you.
CLICK HERE