Chemcouriers Legacy
In the late 1980s, Chemcouriers was formed within the Freightways group of courier companies to meet the needs of its customers, and the wider chemicals industry, for safe and efficient distribution of hazardous products. Most of those in the chemicals industry believed in a "cradle to grave" philosophy, and therefore were deeply interested in the safe transportation of their products to their end-use customers.
From humble beginnings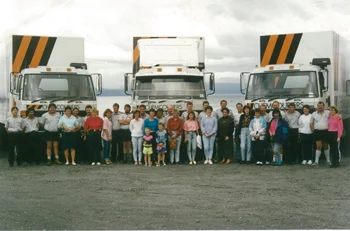 Initially Chemcouriers worked with agrichemical customers, which often required rural deliveries, with the resulting core network being North Island based. As service levels developed, our customers increased, and the business expanded across New Zealand.
With Mainfreight's acquisition of Daily Freightways and Chemcouriers in 1994, the Chemcouriers network intensified, and warehousing services were added.
Chemcouriers very quickly became the recognised expert within the transport industry, in the safe, efficient and lawful movement of hazardous goods throughout New Zealand; meeting all IMCO regulations for both land and sea transportation of hazardous materials.
Vehicle configurations, and depot handling procedures and equipment were invested in. Intensive training programmes were put in place both for Owner Drivers and those handling the products.
Acknowledged by industry experts for their high standards in cargo handling and transportation, Chemcouriers team members are often consulted by customers and suppliers for industry-related advice on safe transportation and warehousing standards.
Our network today
Today our Chemcouriers hazardous goods transportation network and complementary third-party warehousing facilities extend across New Zealand and Australia, with many global customers choosing to utilise Chemcouriers to ensure error-free hazardous goods logistics services.
Make an enquiry
Fill in our enquiry form and our team will be in contact with you directly
CLICK HERE